HEALTH & SPORTS > BILLIARDS & SNOOKER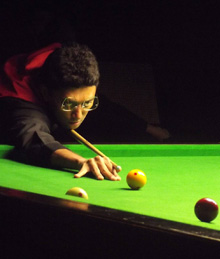 P. J. Hindu Gymkhana Billiards Room is rightly considered as the Mecca of Billiards in India due to its rich tradition of Billiards.
Starting from Sir Wilson Jones the first ever World Champion from India in any sport, till the current crop of established International players it has seen contemporaries of many generations.
Our Billiards Room boasts of 8 tables under one roof, no other club in India can match our standard in quality and quantity of playing facilities.
Many of our players have won International titles across the World and also have won Mumbai Inter-club Billiards & Snooker League titles on countless occasions.
Following is the list of our members who have been International achievers from our club.
Achivers
Wilson Jones (World Billiards Champion in 1958 & 1962)
Om Agarwal (World Snooker Champion in 1986)
Subhash Agarwal (Former World Billiards Runners-Up)
Yasin Merchant (Twice Asian Snooker Champion)
Devendra Joshi (World Team Billiards – Gold Medalist in 2014)
Ashok Shandilya (World Billiards Champion in 2002)
Anuja Chandra (World Womens Billiards Champion in 2005)
Meenal Thakur (World Womens Snooker Doubles – Runners-Up in 2006)
Sanjay Sawant (Asian Snooker Bronze Medalist in 1985)
Siddharth Parikh (World Billiards Bronze Medalist in 2015)
Arun Agarwal (Multiple Times Maharashtra State Champion)
Aditya Agarwal (Current top 16 in World Billiards)
Dhruv Sitwala (Twice Asian Billiards Champion in 2015 and 2016)
Timings
6.30 A.M. TO 9.30 P.M.
Fees
Billiards Fees (Member) - Rs.150/- per month
Billiards Monthly Scheme (Member) - Rs.354/- per month
Billiards Fees (Spouse) - Rs.225/- per month
Billiards Fees (Member's Child) - Rs.900/- for 3 months
Billiards Fees (Non Member) - Rs.100/- per Half an Hour
Billiards Members (Pool Table) - Rs.12/- per Half an Hour
Billiards Non Members (Pool Table) - Rs.24/- per Half an Hour
Hon. Billiards Secretary
Pay Your Fees