Health & Sports > Table-Tennis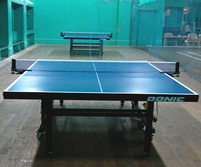 Table-Tennis was introduced in the Gymkhana during the year 1907. Now it has turned into a full fledged department with four tables. Over the years the Gymkhana has encouraged up-coming youngsters by providing playing facilities on concessional terms. It is a matter of great pride to Gymkhana that it has been able to produce National and Inter-National level players, Men & Women alike. Notable among them are 'Arjun' awardees Shri Jayant Vora, Shri Gautam Divan, Shri Farrokh Khodaiji, Shri Niraj Bajaj, Shri Kamlesh Mehta, Shri Uttam Chandrana, Shri Yatin Vyas, Shri Mayur Vyas and Shri Baji Khambatta.
The Gymkhana has been regularly conducting Open tournament where top players of the country take part. It is a matter of great pride and honour that the tournament is one the most popular major tournament conducted in Bombay.

During the year 2015 Table Tennis department has opted for a new table which was appreciated by all paying members. For the first time we have bought a Donic Table Tennis table.

At present We have 4 functional world class standard table.
Timings
6.30 A.M. TO 12.00 NOON
4.00 P.M. TO 9.00 P.M.
Fees
Table-Tennis Fees (Member) - Rs.150/- per month
Table-Tennis Fees (Spouse) - Rs.225/- per month
Table-Tennis Fees (Member Child) - Rs.900/- for 3 months
Table-Tennis Fees (Non Member) - Rs.80/- per Hours
Table-Tennis Table Reservation Fees (Per Table) - Rs.118/- per Hours
Hon. Table Tennis Secretary
Pay Your Fees