Health & Sports > Chess, Bridge & Carrom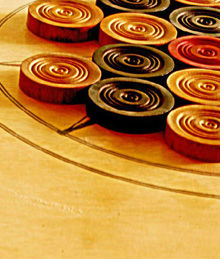 The above department was started by Gymkhana some time in April/May 1983. During the year we conduct successfully several tournaments with the help of Bombay Chess Association, Maharashtra Carrom Association and Bombay Contract Bridge Association, who have always given us co-operation in running the tournaments. We have also conducted some tournaments for our members as and when possible and hope to continue the expansion of this departments.
Timings
6.30 A.M. TO 12.00 NOON
4.00 P.M. TO 9.00 P.M.
Fees
Bridge Fees (Member) - Rs.12/- per Session
Bridge Fees (Non Member) - Rs.24/- per Session
Hon. Gymnasium Secretary
Pay Your Fees