HEALTH & SPORTS > CRICKET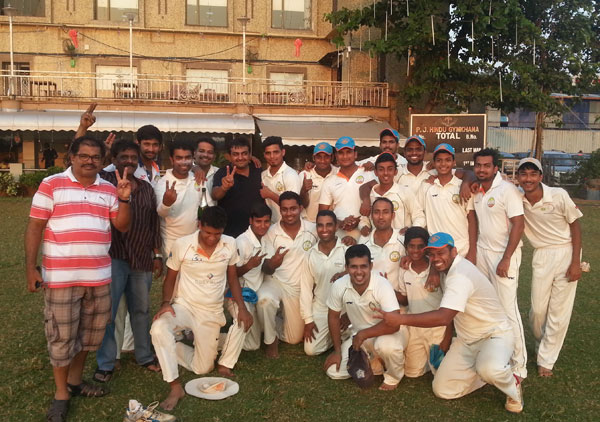 The Temple of Indian Cricket

In the words of Mr. Rajsingh of Dungarpur, Hindu Gymkhana is the 'Temple of Indian Cricket'. We have maintained our good standard since so many years and at present also our Gymkhana Cricket Team is supposed to be one of the best team in Bombay.
We have produced many cricketers who played for india and Bombay, like great Vijay Merchant, Vinoo Mankad, Bapu Nadkarni, S.G. Shinde, Eknath Solkar, Ashok Mankad, Umesh Kulkarni and Karsan Ghavri for india and many players who played for Bombay in Ranji Trophy.
Our Gymkhana consists of two teams 'A' Team & 'B' Team. Our 'A' Team is Playing following tournament regularly :
Purshottam Shield Cricket Tournament
Talim Shield Cricket Tournament
Young Comrade Shield Cricket Tournament
Police Invitation Cricket Tournament
R.F.S. Talyarkhan Tournament
Dr. H.D. Kanga League Tournament
We also started Vijay Merchant Single Wicket Cricket Tournament, after the name of late Shri Vijay Merchant in 1970, which is recognized by M.C.A. So many National and International players have participated in this tournament and played on our ground.
Our is the only gymkhana who put Practice Net throughout the year for our cricketers.
LR TERSI DETAILS
L. R. Tersi Memorial Cricket Coaching Scheme (started for School Boys in 1941) was the first Cricket Coaching Scheme in India wherein mass Coaching was imparted to School Boys on a free of cost basis. The P. J. Hindu Gymkhana Cricket Department has been engaging eminent Coaches such as H.J.VAJIFDAR, VINOO MANKAD, L. B. KENNY, VASANT AMLADI, VASU PARANJPE, EKNATH SOLKAR, R.V.ACHAREKAR, VIDYA PARADKAR, KIRAN ASHAR, UMESH KULKARNI, and SHARAD HAZARE under this coaching scheme. Many of the boys have gone on to play first class cricket for Mumbai and in some cases they have even gone on to play for the Nation.
Timings For Nets
7.00 A.M. TO 9.00 A.M.

LR TERSI
4.00 P.M. TO 6.00 P.M.
Fees
Cricket Fees (Member) - Rs.240/- per month
Cricket Fees (Spouse) - Rs.360/- per month
Cricket Fees (Member Child) - Rs.1440/- for 3 Months
Cricket Fees (Non Member) - Rs.120/- Per Day
Cricket Net Reservation Charges - Rs.35,400/- Per Month
Ground Charge for Cricket Match - Rs.29,500/- Per Day
Deposit - Rs.15,000/-
Hon. Cricket Secretary
Click Here for Online Booking for Cricket Ground
Pay Your Fees