Health & Sports > Gymnasium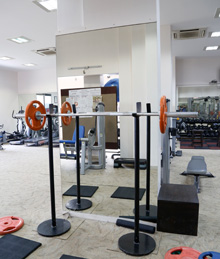 The Gymnasium Committee's Mantra " STAY FIT " has inspired and appealed to a lot of young members. We are proud that a lot of fitness enthusiastic young members have enrolled themselves for this fitness drive.
Members have benefited a lot by losing weight and getting into great shape.
One of our many members, Murgen Modi lost around 30 Kgs in 4 months of rigorous workout routine. Many other young boys and girls have beneffited by our Gynasium Facility and excellent training from our fitness trainers come and be a part of our " STAY FIT " campaign.
Health & Fitness scenario at "The Gym" keeps on getting better with each passing year. Members are making optimum use of the fitness facilities provided and their enthusiasm is sustained by introducing new fitness equipment.
Latest trending Cadio Fitness Equipment like the Star Trac Turbo Trainer and Cybex Total Body Arc Trainer were introduced during the year. Upgraded Strength Training Equipment like Star Trac Seated Chest Press , Nautilus Seated Shoulder Press and Nautilus Abdominal Bench were also introduced during the year.
Our aim is to provide the members with the best possible Fitness facilities. "THE GYM" has a very happy and healthy atmosphere where all age group comfortably blend to achieve their respective fitness goals.
Our trainers also play a big part in helping members achieve their fitness goals. Regular Yoga sessions by Ms. Preeti Parijea on Monday/Wednesday/Friday are regularly attended. Our Yoga family is growing with many senior citizens making use of these sessions.
A happy and healthy time awaiting you at "THE GYM".
Timings
6.30 A.M. TO 1.00 P.M.
3.00 P.M. TO 9.30 P.M.

Sunday
6.30 A.M. TO 11.30 A.M.
3.00 P.M. TO 7.30 P.M.
Fees
Gymnasium Fees (Member) - Rs.420/- per month
Gymnasium Fees (Spouse) - Rs.630/- per month
Gymnasium Fees (Member Child) - Rs.2520/- for 3 months
Gymnasium Fees (Non Member) - Rs.230/- per Day
Hon. Gymnasium Secretary
Pay Your Fees