Message from President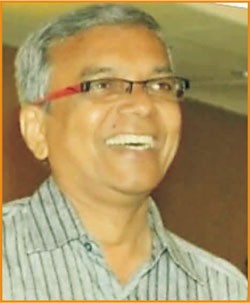 Hello Friends,
A Warm Greetings to each and every Member and their Spouse - The Prestigious Fraternity of an ICONIC INSTITUTION. THE GREAT PARMANANDDAS JIVANDAS HINDU GYMKHANA.
Our Gymkhana is standing tall in the City of MUMBAI for the Past 125 YEARS with a Glamorous, Glorious, Spectacular, Scintillating and a MEMORABLE History as its LEGACY.
I am not sure as to how many of you are aware of the Great Achievements of our GYMEHANA, its Significance in the World of Sports, Promoting, Cultivating and Churning out LEGENDS in every Sporting Activities.
I am Proud of the Position that has been given to me by you My Dear Members, and I am honoured to be back again to serve as the President in this 125th YEAR.
The Dedicated Team of 14 Crusaders, comprising of 6 Office Bearers, 6 Departmental Secretaries, and 2 from each constituency of the Member category, are the ones, as chosen by you to look after the working of this Institution.
We will be completing ONE YEAR in the Office and have lots to tell and Share but much more to doin the coming one Year, which is a very short SPAN.
This Committee has been working very Hard on certain sensitive issues, suchas matters related to the LEASE Agreement with the Collectorate, wherein we have made a Representation against the phenomenal increase. The complex and the Technical issues related to the Structural Repairs, has been well attended but we have a long way to go. We are facing Two Major Challenges, One is of doing the work with minimum disturbances to the ongoing Activities and the other MAJOR one is NEW issues coming up requiring immediate attention and ACTION. Itis basically due to the fact that the Building is an Old One and is EXPOSED to the Extreme Weather Conditions. The other issue is related to the 3Cr. Deposit, wherein the matter is being pursued aggressively by our Lawyers, but.as you all are aware of the glitches in such matters, the same is getting unduly delayed.
The departmental secretaries are themselves active sportsman, which makes a difference to the representation made and the attention received for matters pertaining to the Departments. All of them have been dedicatedly working hard for the upliftment of their Departments and facilities for the Members.
The reports of all the departments have been presented for your knowledge and information.
The team of enthusiastic volley ball players, whom all of us can see playing in the morning on the Gymkhana Lawns, with their vociferous cheering and spirit, have been brought into the main stream activities who will have their contributions made and policies framed for its functioning.